Only emissions free cars in Germany after 2030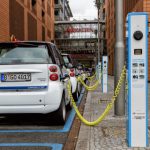 Germany's Federal Council (Bundesrat) voted to approve a ban on new combustion engine vehicles beginning in 2030. This move solidifies the opinion outlined earlier this summer to slash emissions in privately owned passenger cars. The Federal Council, which represents the nation's federal states, approved the measure in order to cut emissions in accordance with the goals set forth in the Paris climate agreement, which Germany ratified just weeks ago. The Council has also asked the European Commission to consider implementing a ban like this across the European Union; given the long history of German policy influence, it could happen.
---
Read the whole article by Cat DiStasio in Inhabitat.