Goalcast: Inspiring the world to reach for their dreams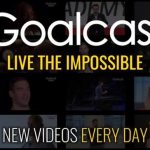 Goalcast is an inspiring community for achievers dedicated to helping you improve all aspects of your life. We provide you with practical advice, resources and the motivation to help you realize your full potential.
We believe that aspiring towards your true goals and eventually reaching them is the most important factor for living a better, happier and more meaningful life. Anyone has the potential to reach their goals no matter how ambitious and we hope to be a source of motivation for people on their journey towards success.
Category:
The Human Spirit
Media Channel Reference:
Goalcast
Book Author Reference:
External Weblink:
External Videolink: