Hydrogen powered passenger train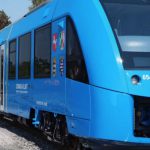 The world's first hydrogen-powered passenger train is coming to Germany
The world's first hydrogen-powered passenger train has been unveiled this week by French transport company Alstom, which will be operating the incredibly quiet and environmentally friendly 'Coradia iLint' in Germany from next year.
The best thing about the Coradia iLint train is that it only leaks excess steam and condensed water into the atmosphere, which means it offers a zero-emissions alternative to Germany's 4,000-strong fleet of diesel trains.
Nicknamed the hydrail, it's set to become the first hydrogen-powered passenger train to regularly operate over long distances.
---