Give Power are turning saltwater into drinking water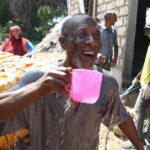 GivePower's Solar Water Farms are sustainably creating access to clean water in water-scarce regions around the world. In June 2020, GivePower's Solar Water Farm Max went live in Likoni, Kenya. For the first time, this community has access to clean, healthy water for their families. The Max system can provide access to clean drinking water for up to 35,000 people every single day.
---
This information comes from the website of Give Power.
---