All human beings are born creators. If you don't believe me, I urge you to recall when you were a child. Didn't you love to paint and dance and sing? Didn't you love to indulge in imaginary worlds you conjured up in your head? Children are naturally creative. It's one of the things that makes us human. The problem is we've been cultured out of our creativity as we've grown older. The problem is we have been educated.
The education system is due for a major paradigm shift. For too long, it has been stuck in the dark ages. Teachers still stand at the front of the classroom and deliver information, much of it meaningless in the whole scheme of things. Schools encourage competition, conformity, obedience and standardization, while also engaging in the suppression of our natural, creative impulses and critical thinking faculties. Children are moulded and conditioned via the factory model of education to be unquestioning worker bees in a system that does not care for human progress. As a result, our species is stagnating. In order to reach the next stage of our evolution, the education system must undergo a revolution of its own…
---
Read the rest of the article by Will Stanton in Shift.
---
From the website of The Six Dimensions: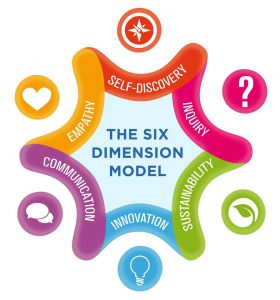 The Six Dimensions of a New Education Paradigm…
Self-Discovery
The first of these six dimensions focuses on helping children connect with who they are, and aims to nurture each child's passions and talents so that they may reach their highest potential as creators.
Inquiry
This dimension is about teaching children how to think instead of what to think, how to discern information critically, and how to conduct their own investigations to find the answers they're looking for.
Sustainability
The Sustainability dimension is about reconnecting with the earth, immersing our children in nature, teaching them real life skills, and showing them how to look after their health and well-being.
Innovation
This fourth dimension is about encouraging students to think outside the box to come up with creative ideas and solutions, defying conventionality, and fostering collaboration instead of competition in the classroom.
Communication
This dimension looks at children's overall social development, and aims to teach them how to cultivate healthy relationships, and how to manage their emotions in order to minimize conflict both internally and externally.
Empathy
The sixth dimension aims to show children the value of real human connection in their lives, by uniting students through a sense of community, encouraging acts of kindness, and adopting a holistic, planetary philosophy.