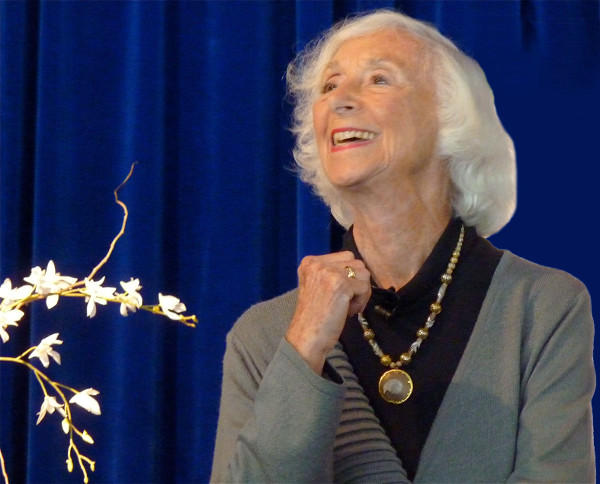 In 1945, the United States dropped atomic bombs on Japan, and the world caught its breath. This pivotal event deeply impacted the young Barbara Marx Hubbard, who found herself asking President Eisenhower, "What is the meaning of our power that is good"? Barbara's 40+ year inquiry, and the answers she has found, offer invaluable assistance to us all at this time in our history. Despite the state of the world, we are truly on the threshold of great possibility, of our own conscious evolution.
Barbara Marx Hubbard has been called "the voice for conscious evolution…" by Deepak Chopra. She is the subject of Neale Donald Walsch's book The Mother of Invention. And many would agree she is the global ambassador for conscious change.
At her heart, Barbara Marx Hubbard is a visionary, a social innovator. She is an evolutionary thinker who believes that global change happens when we work collectively and selflessly for the greater good. She realizes that the lessons of evolution teach us that problems are evolutionary drivers, and crises precede transformation, giving a new way of seeing and responding to our global situation…
---
Read the whole interview by Karen Larré, Mary Anne Weaver and Gary McFarland in Truly Alive Magazine.
---
For more information about Barbara Marx Hubbard go to her website www.barbaramarxhubbard.com.
---